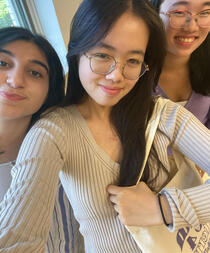 MARIANOPOLIS STUDENT ID CARD
NAME : kath
PROGRAM : A&S first year!
RUNNING FOR : Coordinator of External Affairs
you might've seen my purple poster :)
---
COORDINATOR OF EXTERNAL AFFAIRS
What is it? The Coordinator of External Affairs communicates between Marianopolis and other Cegeps and Universities all the while representing the student body's interests!
What makes me the ideal candidate? I'm dedicated, down-to-earth, and reliable. I'm someone who's full of opinions, but knows that being open to different perspectives is an essential part of working in a team.
What will I do to reach my mandate objectives? Listening to fellow students' opinions will be my utmost priority. I will make sure to organize events that cater to everyone and be ambitious in my endeavors to advocate for Marianopolites!
choose the candidate you think is most deserving of your vote !!
---